LECCIÓN EN INGLÉS: LECTURA DE AÑO NUEVO
Con esta lección en inglés aprenderás vocabulario relacionado con año nuevo. Incluye una lectura, vocabulario y práctica de pronunciación.
Haz clic en la imagen para ver el video: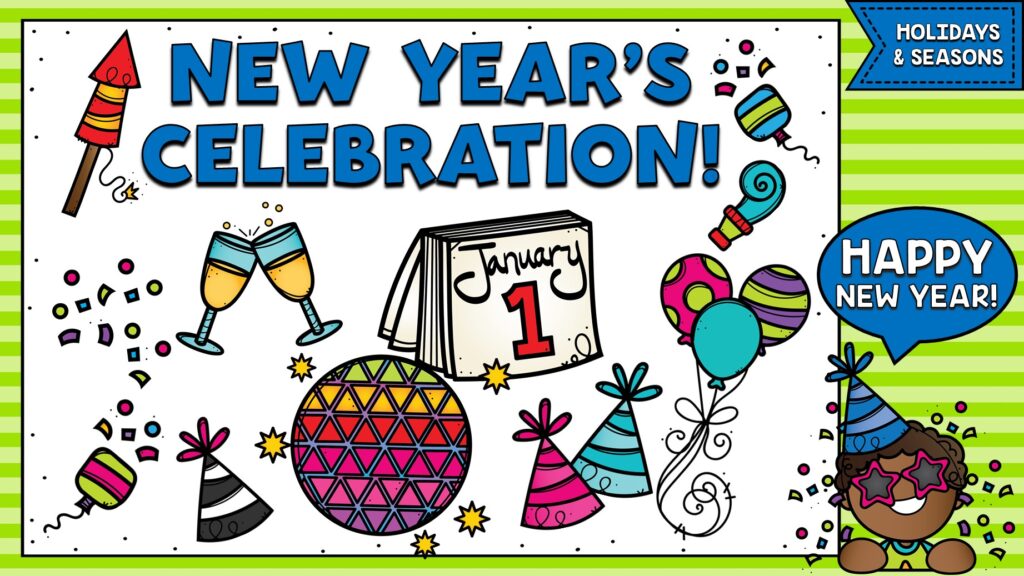 LECTURA EN INGLÉS DE AÑO NUEVO:
READING IN ENGLISH
LECTURA EN ESPAÑOL
People have been celebrating New Year's Day for thousands of years.
Las personas han estado celebrando el día de Año Nuevo durante miles de años.
This holiday is celebrated around the world on January 1st.
Esta festividad se celebra en todo el mundo el 1 de enero.
On New Year's Day, we usually think about two things:
– Our accomplishments of the last year
– Our hopes for the new year
El día de Año Nuevo, solemos pensar en dos cosas:
– Nuestros logros del año pasado
– Nuestras ilusiones para el nuevo año
Celebrations for New Year's Day usually begin on December 31st which is called New Year's Eve.
Las celebraciones para el día de Año Nuevo generalmente comienzan el 31 de diciembre, que se llama la Víspera de Año Nuevo.
Families and friends plan parties, make delicious food and play fun games.
Las familias y los amigos planifican fiestas, preparan comida deliciosa y participan en juegos divertidos.
Millions of people watch the countdown to the new year at Times Square in New York City.
Millones de personas ven la cuenta regresiva para el nuevo año en Times Square en la ciudad de Nueva York.
The dropping of the ball marks the start of the new year.
La caída de la bola marca el inicio del nuevo año.
Fireworks go off when the new year starts.
Los fuegos artificiales se disparan cuando comienza el nuevo año.
The sound of the fireworks brings good luck and gets rid of any bad luck from last year.
El sonido de los fuegos artificiales trae buena suerte y elimina la mala suerte del año pasado.
The majority of businesses and schools are closed on January 1st.
La mayoría de empresas y escuelas cierran el 1 de enero.
Some people greet the new year with parades, sports games, and by making New Year's resolutions.
Algunas personas saludan el año nuevo con desfiles, juegos deportivos y haciendo propósitos de año nuevo.
A resolution is a promise to yourself to improve your life.
Un propósito es una promesa que te haces para mejorar tu vida.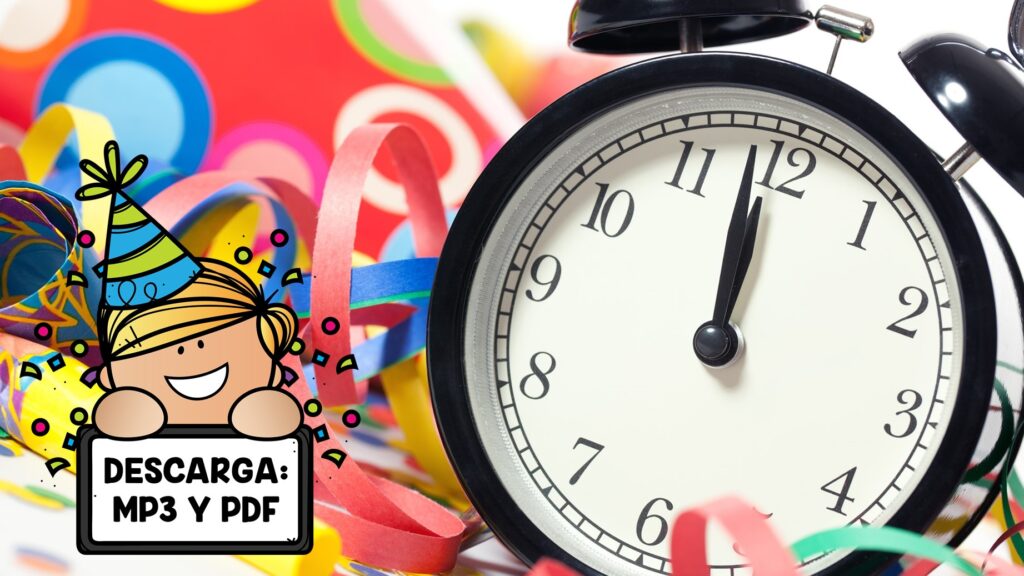 AUDIO CON RESUMEN DE LA LECCIÓN:
GUÍA DE ESTUDIO: LECCIÓN EN INGLÉS DE AÑO NUEVO
VOCABULARIO CLAVE EN INGLÉS Y ESPAÑOL:
Celebrate:

Celebrar

Holiday:

Día festivo / Festividad

Accomplishment:

Logro

Hope:

Ilusión

New Year's Eve:

Víspera de Año Nuevo

Delicious:

Delicioso

Countdown:

Cuenta regresiva

Start:

Inicio

Fireworks:

Fuegos artificiales

Luck:

Suerte

Businesses:

Empresas

Parade:

Desfile

Resolution:

Propósito
SIGUE PRACTICANDO
SERIE DE DÍAS FESTIVOS Y LAS ESTACIONES DEL AÑO:
CURSO DE INGLÉS PARA PRINCIPIANTES:
SERIE DE GRAMÁTICA:
SERIE DE VOCABULARIO:
SERIE DE PRONUNCIACIÓN | FONÉTICA:
SERIE DE EXPRESIONES:
SERIE DE IDIOMS:
SERIE DE CONVERSACIONES: